Wentworth Detention Centre is the main prison seen in the series, although parts of some episodes take place at others neighbouring centres such as Blackmoor Prison, Barnhurst, etc.
The "prison" itself, is actually the side or rear entrance of the Channel 10 studios in Nunawading, Melbourne, Australia, with bars added to windows, to make it look more like a prison.
Wentworth Detention Centre was set in a fictional suburb called Wentworth, however the studio and outdoor set being on the one premises, are/were located at the corner of Springvale and Hawthorn Rd in Nunawading.
Wentworth is apparently located near some residential properties, as some have been shown to be within sight of some of its wire fences.
It has been stated that several fences surround it. When a prisoner attempted to tunnel their way under a fence, they were told that if they made it through, that there would be three more to go.
It appears two gates are entry and exit points, with the carpark and pick up area being between the two manned gates.
Despite all this security, many of the inmates have managed several successful escapes in true soapie fashion.
Inside Wentworth
Edit
The prison appears to be a four level building, and divided into 8 different blocks, A Block , B Block, C Block , D Block , E Block, Isolation and Maternity. As most of the action takes places in "Cell Block H", it appears, these blocks are designated by category, rather than alphabetically - perhaps the screws have named it H for 'Hell'.
The reception area, contains a typical office reception area, with a height chart for the mug shots, and showers nearby for all incoming inmates.
It is unclear whether each block has it's own rec room and shower block, etc, or whether they are considered communal areas. However it is mentioned by Dot Farrar that the H Block rec room is not a nice as the old one. Also it should be noted that in episode 462 Heather Malone and Meg Jackson (Morris) interfere with scuffle a rec room later referred to as B Block. In episode 93 Bea Smith gets sent to Isolation Block, indefinetly.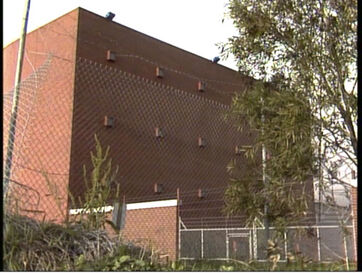 Community content is available under
CC-BY-SA
unless otherwise noted.