"The only thing taking revenge will do, is earn you a life sentence."
Vera Bennett is a character in Wentworth, the re-imagined version of Prisoner. Vera is the Governor of Wentworth Prison, during the first three seasons served as deputy alongside Joan Ferguson (Wentworth), before being promoted to governor after the fire at Wentworth. Vera is portrayed by Kate Atkinson
Time at Wentworth
Edit
Vera is the Prison warden of Wentworth Correctional Centre. 
Vera first appeared in Episode 1. She was quite a pleasant officer to begin with, trying to get to know the prisoners as people, trying to help prisoners adjust to life at Wentworth, and so on.  This version is a complete opposite (so far!), of the original character.
Vera helped to induct Bea Smith, and was a bit of a friend to her in general.  However, this attitude to prisoners didn't go unnoticed, as Meg Jackson observed. Meg told Vera she needed to stop making friends with the prisoners, and start looking at what was really going on.
After Meg's death, Vera became acting governor for a short time.  During this time, she seemed to be stressed with the job itself, as well as the issues surrounding the prison. Eventually, Erica Davidson took over as the new governor.
Relationships
Edit
In Episode 3 of season 1, we learn that Vera has a boyfriend called Adam, but it then turns in later episodes that he is imaginary. In episode 4 it is suggested that she has feelings for Matthew Fletcher that most of the staff already know about, although Vera denies it. In episode 5, however, she appears to be jealous while Linda Miles is t7alking with Fletch about a trivia night at the local pub.
Vera struggles to maintain her friendship with Officer Linda Miles during season 2 after Linda is suspended and Fletch is sent home and the two are seen having drinks together, Vera scolds Linda for failing to do her job properly when a pregnancy test is found on the grounds, but the two manage to make up on somewhat friendlier terms during later seasons.
She also has a strained relationship with her mother. As shown in Series 1 Episode 6, she lives with her mother and is emotionally abused by her. Vera is made to feel very guilty if she leaves her mother for something other than work; she is constantly manipulated by her co-dependent mum which has put a huge strain on her almost non-existent life outside of her job at Wentworth.
Season 4 Vera becomes Governor of Wentworth after the events of season 3. She also sets up Brenda Murphy for letting Bea Smith have access to kill Ferguson.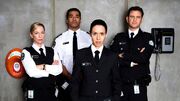 In Season 5 Vera saves Joan from being lynched by the other prisoners.
In Season 6 Vera is Pregnant to Jake and threatens to expose him after that murder of Nils Jesper and the escape of both Joan and Franky. But realises this would implicate her to, so she keeps quiet..
This version of Vera is nothing like the Vera of the original to begin with.  During Episode 1, many fans tweeted that Vera and Meg seemed to have switched roles/names.
Vera's nice attitude won't last.  Kate Atkinson has stated in interviews that Vera will get nasty over time, and this has been correctly proven in Episode's 8, 9 and 10.
Appearances
Edit