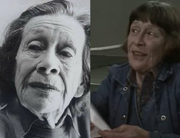 Sheila Mary Florance
 (24 July 1916 – 12 October 1991) was an Australian born actress who was most notably known for playing
Lizzie
Birdsworth in Prisoner: Cell Block H.
She also had a lustrous career Australian theatre, film and television actress. She worked in both Australia and Britain.
Florance married Roger Oyston in April, 1934 (1913-1944) who died in 1944, with whom she had two daughters and two sons, Susan, Peter and Phillip. She spent time in London during the Second World War, where she lost a baby daughter, killed in her arms during an air raid. Her first husband died in action after D-Day; and she subsequently married a Polish fighter pilot who had been badly wounded, John Balawaider, in 1946, whom she nursed throughout her life.
When Florance stopped working on Prisoner in 1983 she hoped to spend a last couple of years with her husband John, who had suffered much of his life from injuries sustained during the war. He was now seriously unwell and died from cancer in October of that year.
Sheila Florance died aged 75 on 12 October 1991, nine days after her son Philip had represented her at Sydney Opera House to receive on her behalf the Best Actress in a Leading Role award for her role in her final film, A Woman's Tale, close friend Charles 'Bud' Tingwell gave a eulogy.
During filming for 1979's "Mad Max" Shelia stepped in a hole whilst carrying a prop shotgun and broke her leg, but came back to set just days later to finish filming her scenes with her leg in plaster.
Community content is available under
CC-BY-SA
unless otherwise noted.