wiki created 22 July 2011
Welcome to the Prisoner Cell Block H and Wentworth Wiki
[
edit
|
edit source
]
Prisoner: Cell Block H (originally titled Prisoner in Australia) [1] screened from 27 February 1979 to 11 December 1986, created by Reg Watson [2] produced by The Reg Grundy Organisation [3] and screened on Network Ten, originally conceived under the working title of Women in Prison and Women Behind Bars, the series was set in the fictional women's prison, the "Wentworth Detention Centre". Since its original airing, it has been shown in re-runs and has picked up a huge cult following overseas, including the USA, UK and Sweden and new generations of fans keep getting hooked on the storyline's many which are still quite relevant today.
In 2019 it was Prisoner's 40th Anniversary.
|Top Dogs for best Top Dogs |Screws for best Screws |Governors for best Governors
|Wentworth Top Dogs for best Top Dogs or Rivals |2013 Staff for best Screws |Wentworth Governors for best Governors
The Prisoner Cell Block H and Wentworth Wiki features articles for the original Prisoner series and its 2010s remake, Wentworth.
Click on the buttons below to check out the Main Categories
Wentworth is the series considered Prisoner's "spin-off" remake and since its release has been released worldwide to 80 plus countries worldwide.
The series first started airing in 2013 on Foxtel's SoHo channel before moving to Showcase at the start of its fifth season the series finish airing in 2021 with 100 episodes and 9 seasons.
The series has won multiple Logie Awards, AACTA's and many more.
The series first begun production in 2012 and finished production of its 9th and final season in late September 2020.
The show was originally going to be only 16 episodes but ended up being 692 episodes due to its popularity.
Some of the actors and actresses had more than one role in the show (e.g, Anne Phelan [4] Officer Mason and, dopey inmate Bernadette and her famous role as Myra Desmond, who was the second longest running top dog and former PRG).
The APM song Fear 1 from the show was used in two episodes of the famous Nickelodeon Cartoon Spongebob Squarepants [5]
American entertainer Sammy Davis Jr[6] a fan of the show and visited the show at Grundy Studios to meet the cast including his favourite actress on the show Maggie Kirkpatrick, her character nicknamed The Freak. Davis arriving in a helicopter even offered to make an appearance on the show but the series ended before it could be arranged.
The girl who played Bea's daughter in a flashback scene is Val Lehman's daughter Cassandra, and the girl who played Yvonne, who gave Bea refuge in her first escape is also her real-life daughter Joanne.
Vera "Vinegar Tits" Bennett was one of the big roles to choose from in the series as Val Lehman and Maggie Kirkpatrick both auditioned for the role.
When Wentworth did a media screening of its first episode, the original primary cast of Prisoner Cell Block H called the series "The ultimate compliment."
When Wentworth was renewed for 20 more episodes in 2018, it was revealed that it would be the longest running 1 hour drama on Foxtel in its history.
Featured Screw, Inmate & Governor
[
edit
|
edit source
]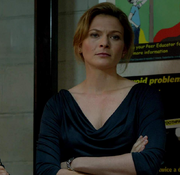 Linda Miles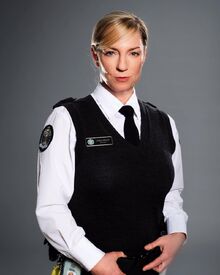 Erica Davidson (Wentworth)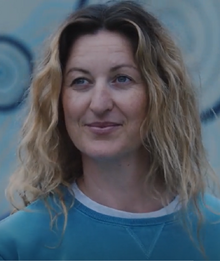 Community content is available under
CC-BY-SA
unless otherwise noted.