"It doesn't matter who you were.. Only who you are now.."
Marie Winter was an inmate of Wentworth Correctional Centre who was sent to prison for assault after assaulting the doctor who said that son Danny Winter was brain-dead.
Before her indictment to Wentworth, Marie was a former brothel owner who picked up Allie Novak off of the streets and turned her into a prostitute as well as several other inmates of the prison including Taylah Bullock. Marie also knew former manager of Corrections Derek Channing as 'Golden Showers'.
Marie during her time at Wentworth was obsessed with finding her son's killer and by getting out of Wentworth. When Marie's plan fails, she initiates the Siege of Wentworth with the help of Sean Brody, but is ultimately shot in the leg. Marie is taken to protection 'for good'.
Marie is released from the protection unit after it is closed by Ann Reynolds with her power all but gone and nothing left to lose. Marie takes the path to redemption by protecting her son's killer Ruby Mitchell from being attacked by Lou Kelly's cronies, Marie is tragically stabbed in the chest by Lou as revenge for Reb's death.
Time at Wentworth
[
]
Marie arrives at Wentworth on remand for her trial pending assault and reckless infliction of grievous bodily harm. Her victim was the doctor who tended to her son after he was attacked for raping a woman. He told her that her son Danny was braindead, so she should stop life support and let him succumb to his injuries.
She serves as the secondary antagonist of the first half of Season 6 and the main antagonist in the second half and season 7. Marie's lawyer tells her the man that she assaulted died when he was walking his dog. Marie's parole is then stopped.
Marie returns in S7 with nothing to lose due to her parole being cancelled. During the two months leading to Season 7 from the Season 6 finale, Marie has built herself a crew and has managed to bring Allie Novak back onto her side, ultimately turning her against Kaz Proctor.
While Marie continues her feud with Kaz, her new founded friend turned enemy Rita Connors is released from isolation after killing her hench woman Drago. Season 7 is focused on their showdown. Will Jackson sees her at night sometimes.
Season 7 
[
]
Marie returns from her sentencing in the premiere with nothing to lose, she gets 15 years and she wants revenge on Rita Connors for killing Zara Dragovich, she seizes the opportunity to do this when Rita is getting married and gets the Butchers Gang to kill Ray Houser. Marie is also still on about finding her sons killer, as her cronies on the outside have stopped looking and have started to look elsewhere for work because Drago was their "Boss". Will and Marie are sleeping with each other. Will takes Marie out of her cell in the middle of the night so they can have sex in his office.
Rita and Kaz make an alliance to kill Marie by getting chemicals from the kitchen, laundry, and garden to build a firebomb. Allie saw them mixing chemicals and tells Ruby that they should back off, Ruby checks it out and eventually convinces Rita that even if Marie killed Ray killing her wouldn't help. Marie can't get any more gear cause Vicky's stash got flushed by Kaz, she eventually manipulates Allie into getting it in for her. Allie brings in it by after seeing heroin wants a hit herself so starts heating it on the stove, Kaz walks in and stops her, Allie complains about how Kaz left her astray, but Allie betrayed her earlier. Kaz realises Allie won't be able to resist going without heroin with Marie around and finally takes revenge on her, She walks towards Marie's cell with a chemical firebomb, rolls it through the door and when Marie realises slams the door shut with a door stopper. Marie sees the flame about to blow up and her cell explodes and she is taken to medical.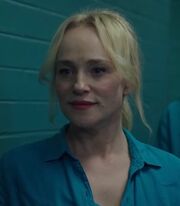 Marie recovers from this and stays in medical with her hands bandaged and burns on her neck. Kaz tells Marie that she doesn't want to start anything else and that their war is over. Marie also tells Will that they can't be seen together as Kaz knows about them. Marie also prints off documents and shows them to her lawyer and tells him that if he doesn't show them to the her protector that she will leak the info to the press.
Further along in the season, Marie is under continuing scrutiny from Vera as she tells her after a ramp was ordered a note was found, Marie is hell bent on finding out why Ruby killed her son, when Ruby tells her, she denies her son would be a rapist but says later they had to move because he hurt someone, Marie is slotted after poisoning Ruby and trying to attack her in medical, she breaks down in the slot after Will refuses to release her.
Winter is released from the slot with news that Channing has been disgraced further when she leaks news about him to the press via her lawyer. Marie learns of off Rita that she inadvertently saved Ruby's life when she was given rohybnol and it slowed the bleeding in her brain, Marie's fall from top dog continues when Allie reveals she lied to protect Marie from getting shived, Rita saves Marie from being attacked by a nurse who was one of her former workers on the outside.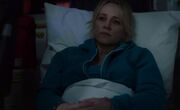 When the siege takes hold things go wrong from the start, Marie wants to get out. Things go from bad to worse when she calls her protector and he comes to the prison, and when it is found out, Sean reveals he killed Kaz, and she tells him to stop shooting after Sean shoots May in the head killing her. Marie fails to escape alongside Brody and Allie, but Marie scuffles with Ruby and is shot in the leg by Allie. Afterward, Marie tells Will she only found out that Brody killed Kaz and things weren't supposed to go that way. Will informs Marie she will be placed into protection alone and for good.
Season 8
[
]
Marie is still in isolation following the siege and is let out for an airing, and is then moved to the protection unit which Marie does not like. Jake who escorts her to protection says she should "fit right in." Marie meets Reb and the two begin talking after an inmate is bashed, Marie asks if Reb is ok, Reb asks what happened and Marie says the inmate stole a stash which is what you don't do, and you don't lag either, Marie also asks Reb for a favour and asks him to kill Ruby for her. Marie speaks with her new lawyer and he says the prosecution is willing to drop the siege related charges for Marie's evidence against the Attorney General.
Later her lawyer who informs her, that her case with Michael Heston died with him, and Marie is facing life behind bars. Marie learns from Linda that Ruby is due for parole soon unlike her. Marie later talks with Vera and says that she will make Will's life hell. Marie later tells the police that Ruby killed Danny, but this falls on deaf ears as Ruby gets protected by Will and Vera who risk their careers for Rita. Marie talks with Will who tells her she destroyed everyone including her son. Marie at her ropes end, goes to the protection unit gym and strangles herself with weights, Will performs CPR on Marie and she survives.
Afterwards Marie speaks with Dr Miller about her experience, where she says she had failed as a mother and to even take her own life. Marie is later given a sedative in where she sees her son Danny. Marie after speaking some more with Dr Miller retracts her police statement about Ruby.
Marie is informed that the protection unit is to be closed down, but she refuses to believe it includes her. When she is placed back into the general population, the general prison does not take it well. Marie is attacked in the dining room by Mon and Allie tells her that she will kill her if she goes near Ruby. Marie later talks with Allie but Allie tells Marie that she will let the women come for her. Marie later fails to keep her end of the bargain for Reb's deal, so Lou goes to attack Ruby, but Marie finds out from Reb, and races off to the showers as it will look like Marie attacked Ruby. Marie is later punched in the yard by Allie.
Marie is transferred from h block to j block where Lou and Reb are placed. Lou decides that they are going to team up and Marie realises that she doesn't have much of a choice but to comply. Marie tries to befriend Reb several times but he isn't interested in her efforts.
Marie suggests to Lou that she could start selling LSD and that she could get it in for her as she has the outside contacts. She saves Reb from Cynthia when she tries to rape him. Later Marie gets a visit from Basra regarding setting up the LSD deal. She comforts Reb after his attack and says the he reminds her of her own son. Allie attacks Marie because she thinks that Marie has something to do with Ruby's disappearance which she hasn't.
The LSD is delivered by mail and Marie suggests a 60 - 40 cut between her and Lou Kelly. She offers to split her 40 with Reb. Later she goes and befriends Joan Ferguson who is newly released from the psych unit.
Marie asks Lou to leave Joan alone when she is pushing her to give rat poison to Dr Miller in his tea, during the riot in the laundry Marie stands unimpressed by the actions of Lou. Later Marie catches Joan about to drink the rat poison herself but is talked out of it by Marie. Marie then keeps the bottle of rat poison. After Lou is slotted she comforts Reb and asks Reb about the cult that she was in, Reb reveals as much as he does.
Marie convinces Reb to go back to Dr Miller and Reb does so successfully, Reb later talks with Marie in the yard and he thanks Marie for telling him to do it.
Marie and Sheila have a conversation where they both agree that Lou has too much influence on Reb. When Lou is bashing Allie for supposedly stealing her phone and money Marie presses the alarm button. When Lou confronts Marie about this she says that she did it because of Reb. Marie says that Lou is ruining Reb's chances of transitioning if Allie would have died. Reb screams at Marie that she is not his mother and that he is not her son. Marie meets with Will regarding Allie's bashing but she claims that she didn't see anything. Marie later tells Allie that Lou is barking mad and that she means business regarding the missing phone.
Season 8 Part 2
[
]
In episode one, Marie talks to Sheila about the case, Marie learns off Lou that Allie is returning to the prison after her attack. Marie later talks with Allie and says to her she needs to protect those she cares about if she does plan to attack Lou. Marie talks with Sheila about her case again and Marie tells Sheila that she can either let the hate consume her or find a way out of prison. Marie helps Sheila get sedatives as Sheila wants to get "Lou out of the way", Marie gets them and gives them to Sheila. Marie later learns that Reb dies in his cell when she comes into the unit with Joan. Marie opens to the door and finds Lou trying to rouse Reb but can't. Marie asks what happens but is shut down. She stares blankly into the cell and Joan presses the panic button.
In episode two, Marie looks on as the officers take Lou out of Reb's cell, Marie later confronts Sheila about it saying that it should've been Lou she killed. Marie argues with Lou about it. Marie later tells Lou it was Sheila who killed Reb. Marie later finds Lou with a dying Sheila and can't take her suffering so they both kill her with a mop handle. Marie is in the dining room when everyone finds out and when Lou declares herself top dog she looks on.
In episode three, Marie wants a transfer out of H6 due to the guilt of killing Sheila being part of Reb's death. Marie asks Linda if there's any news, but she just replies with "ask him yourself." Marie later talks with Kath about creating a monster in Sheila and feeling guilty. Marie later sees Rita come back in to the prison and says that its fine between them. Marie talks with Ann about the allegation of misconduct, where Ann offers the chance of a new start at another prison. Marie later watches the shiv fight in the laundry and tells the officer after Boomer is injured and the fight is over to call medical. Marie has her talk with Helen Stanfield where she denies the allegations and said most top dog conversations had to take place privately. Will thanks Marie and Marie tells him she owed him for saving her life. Marie talks with Lou later about having nothing left other then being top dog.
In episode four, Marie is first seen playing basketball, and later is seen when Eve Wilder is inducted into Wentworth. Marie tells Eve that Joan had a head injury and is now known as Kath and that she has talked to Lou about the cell and said it was fine to use the cell. Later Marie talks with Eve again but this time it was about Joan's time at Blackmoore. Marie later talks with Lou and asks her if it was the grief talking when she said she was going to kill everyone, Lou nods.
In episode five, Marie is first seen when Lou is in her cell crying over Reb again and says to Lou she cannot keep on doing that. Marie is later seen talking with Allie when she learns that it was Judy who stabbed her. Marie is later seen in the laundry and then in the bin area when Judy is almost drowned by the women.
In episode six, Marie is asked to find Zaina Saad's phone so Lou can make contact with Judy's contact. Marie is then seen outside talking with Allie and says that she wants to move units and if its possible for her to move into Allie's unit, Allie says she'll ask but the women there wont take kindly to it. Marie is later spotted by Linda and taken to see Detective Jones who reveals that he knows all about Marie, Marie says she wont help him, but Jones says he knows that. Jones tells Marie about Rita and how she is a cop. Marie walks back to the unit and asks to speak with Rita. Marie tells Rita that she was told everything from Jones and says that Rita is nothing but a hypocrite for lying not only to herself but to Ruby as well. Marie later tells Lou she needs to tell her something but doesn't. Instead she tells Lou to get over Reb, and then kisses her.
In episode seven, Marie is first seen in the showers when Rita talks to her, Marie tells her she isn't interested in outing her as a cop since Lou had made plans to kill the officers. Marie is later seen when Lou outs Joan as the unit's mole and then burns her hand in the steam press. Rita tells Marie in the yard that is "dirty" but she has to put up with it. Marie is later outed by Lou when Lou finds the phone of Zaina's on voice record. Marie is transferred to H1 as a result.
In episode eight, Marie is first seen when the women in their unit are making teas. Boomer tells Marie to basically shoved it. Marie is slotted after starting a shiv fight in the laundry. While in the slot Marie remembers she needs to get a message to Rita but Linda refuses to help her. Marie is later seen in the yard when Lou ousts Rita as a cop.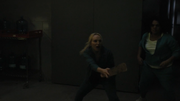 In episode nine, Marie has a dream that she is about to be hung by Ruby, Allie and Boomer but wakes up breathing heavily. She exits her cell and is confronted by Ruby and the gang when she said she truly forgot about the recording on the phone. Marie in the yard is told by Lou to make her decision to be with her or "The Pig". Later Marie talks with Rita and says that she never trusted the cops but never understood why she wanted to listen to Jonesy. Marie talks with Allie who tells her she was wrong about a lot of things including Danny. Marie tells Allie not to go down the dark path. Marie later is asked by Rita to protect Ruby, later when Ruby is tricked and beaten, Marie dies protecting Ruby when Lou stabs her with a kitchen knife. Will closes Marie's eyes.
Marie's last words are "Come on you cunts, you're fucked."
Appearances
[
]