"A child needs her mother.."
Joan Ferguson is a former inmate and former Governor of Wentworth Correctional Centre.
Ferguson before being transferred to Wentworth worked as an officer at Blackmoor Prison earning the nickname 'The Fixer' for drying out the compounds of several prisons she had worked at.
Ferguson comes to Wentworth after the presumed resignation of governor Erica Davidson, Ferguson is brought in to curb the prisons high drug problem and to get the public back onside after the death of Jacs Holt.
Ferguson's term as governor has Vera Bennett serving as her deputy governor but Ferguson's relationship with the inmates is rocky as she tries her hardest to deal with memories of her time at Blackmoor with her relationship with inmate Jianna Riley being the starting point to her downfall. Joan attempts to have Will Jackson arrested for the murder of Bea's husband Harry Smith and hires her hitman Nils Jesper to run down Matthew Fletcher. Ferguson becomes undone and when she kills Jessica Warner in the Fire of Wentworth she is taken to Sinclair for treatment.
Upon her return to Wentworth Joan immediately petitions to get put into the general population and her plan is to make sure her charges are dropped for the fire, but she comes undone when Bea kills herself with Joan's help after Joan hotshotted Allie in the shower.
Joan later escapes from Wentworth with the help of Jake Stewart and is presumed dead when a body is dug up months later. Joan is hiding on the run when she is attacked and losses her memory. Joan is returned to Wentworth where Will Jackson is now the Governor and Linda Miles is his deputy.
Joan regains her memory and has urges that she wants to attack the people who wronged her. Joan ultimately saves Vera during the prison explosion and goes on the run again.
"The Freak" Joan Ferguson 2014 Sneak Peak
After episode 10 "Checkmate" the Season 1 final of Wentworth, a short sneak peek promo aired for Season 2. In the video someone (speculated to be Joan Ferguson) is shown putting a single black glove on, a huge hint and nod to the original Prisoner character "The Freak" Joan Ferguson.
Past
Ferguson was born in Russia in 1964. It is unknown how she got to Australia, as is the majority of her past, other than she grew up in a frustrating relationship with her father, who would continuously push her to succeed. In spite of the bullying, hectoring and all the tensions leading to her feeling a huge amount of anxiety. However, she would find peace in classical music that her father would listen to, this music is heard playing in her home and her office; especially when she is stressed. It was also revealed that her father murdered her mother when she was a little girl.
Older, Ferguson became a correctional officer and eventually found work at Blackmoore prison where she met Jianna, a pregnant inmate for whom she grew feelings for and had a relationship with. When Jianna's son was taken away by Will Jackson (who used to be a social worker at the time), she was soon lynched by the prisoners due to her relationship with Ferguson, who was under the influence Jianna killed herself.
After this, Ferguson took her revenge out on the prisoners and began a streak of 'fixing' prisons of drugs and criminality, earning her the title "The Fixer."
Personality
Joan is apathetic and extremely manipulative in order to get what she wants. She is willing to go draconian lengths to serve her agenda, even if it means putting herself in harm's way. Joan suffers from hallucinations of her deceased father. She also has OCD (Obsessive Compulsive Disorder, link to a site explaining this Disorder) causing her to need to keep everything around her under control, in order and clean. Such as her pencils on her desk, her cards, and her intolerance of foreign objects on her desk that may carry germs/shaking people's hands. Ferguson is seen exhibiting these compulsive behaviours variously throughout the series.
She comes as a cold and calculating woman; highly intelligent with a wide vocabulary and professionalism among the staff and prisoners. Ferguson is ruthless with herself and other lives in order to serve her agenda. She is apathetic to others, especially prisoners, and is not above torturing or killing people such as Jodie Spiteri, who she severely agonized in order to get her to harm Bea Smith to blemish Smith's hold of the women. Ferguson was raped by her psychiatrist (Dr Foster) and used that to blackmail him into having her processed out of the psychiatric hospital. Ferguson was then ganged by Juice and her crew (thinking Bea Smith would attack her) and used the assault to blame Will Jackson. She manipulates nearly everyone she meets, her goal is to succeed and watch her enemies, the people that betrayed her, suffer.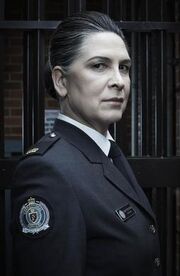 Ferguson has shown that she is capable of feeling emotions such as happiness, infatuation, sadness, anger, and embarrassment, but also care (in her own twisted way). Her feelings for Jianna Riley still linger after her death and her desire to be part of Shayne Butler's (Jianna's son) life. When she grows an infatuation with Doreen due to her uncanny similarities to Jianna, Ferguson begins rewarding Doreen to have these feelings reciprocated. She experiences heartbreak when Doreen is overheard making fun of her, calling her a Freak, telling Smith about who Jianna is and how she is disgusted Joan tried to kiss her and lashes out in anger when in private. Ferguson also saves Doreen's baby from Jess Warner revealing that she may have a moral code to sustain. Lastly, Ferguson does experience fear (the fire when she is with Joshua, her lynching and being buried alive), and thinks she lacks empathy, that there is something wrong with her and is scared she may need help. And she does have difficulties with empathy, having never been nurtured that way. She also is afraid of her father, and Bea Smith's power over the women.
Seasons
Season 2 Trailer
In the first Season 2 trailer, we learn that Joan Ferguson will be making her debut in the Wentworth series. Joan talks over the trailer and we see talking to the officers, all of whom are accounted for but the governor Erica Davidson. Joan is shown kicking over a basket, and then Franky says "Who are you?". The camera cuts to Joan in another room where she is looking at the camera, she continues to speak and says, "My name is miss Ferguson, but you can call me Governor."
Season 2
Joan Ferguson replaces Erica Davidson as Governor. She started a garden project after seeing Doreen and Liz take care of flowers in the yard, and later found a phone under said flowers slotting Boomer as she was found with said phone, the flowers now ruined. She told Doreen they can go one better and gave her the garden project and later stating that Doreen is in charge and all cost for materials go through her office. She even gets men from another prison (Walford) to help with possible repeats, etc. Eventually, the Garden Project ends because one of the male prisoners attempt to rape Franky Doyle and Vera Bennett finds the drop box (used to smuggle drugs) in the Garden shed. She hotshots Simone Slater as Joan realized she was going to try and kill Bea Smith, possibly ruining her plan to have Bea gain power over the prison and become Top Dog instead of Franky. She first gets called 'the Freak' in last episode of season 2 by Smith herself, obviously leaving her with a bitter feeling.
During that season she is seen handling things with an iron fist, yet seems to be mindful of some of the inmates, such a Liz Birdsworth by helping her to contact her daughter before her release, Doreen Anderson as she reminds her of Jianna, by giving her the garden project. She is the one to bring Bea out of the slot and to drag her back into general, deciding not to medicate her anymore, as it only serves Bea to be dissociated from reality.
She also decides to mentor Vera, albeit manipulatively, to become a better officer and possibly later on, Governor. Joan offered Vera to have drinks with her in her office, and she emotionally manipulated Vera to tell Joan about her snooping into Fletch's journal, revealing that he had an affair with former Wentworth Governor Meg Jackson (who died in Season 1, episode 1) giving Joan an important piece of information to wreck havoc the relationship between Will Jackson and Matthew Fletcher. She also told Vera that what she does for her mother is admirable but that "she shouldn't forget to take time for herself", and it is only later in the season that Vera tells Joan she won't be able to cover a shift as she has to be home with her mother, stating that she has a "strong personality", something which resonated with Joan, affirming that it was alight. Later that night, while Vera was taking care of her mother, Joan dropped by to bring her food as she knew she had her hands full, Vera invited her in and Joan refused before entering anyway, this being the first and likely only time Joan and Rita Bennett crossed path. Vera introduced them and Rita began to belittle Vera, which hit close from home for Joan. She took matters into her own hands and told Rita "I'm sure Vera is doing her very best, Rita" to which Rita stated "she tries, but she can't cut it, it's the story of her life, she's like this at work too I bet ", Joan then whispered into her ear "No, at work she's the best, she's nothing like [...]" leaving Rita speechless and with fear in her eyes. Later on, after the Vinegar accident Joan told Vera her mother's illness was distracting her, taking away her focus, that maybe she was wrong about her, that she was just not up to it, and to "go home Vera, take care of your mother". Leading Vera to take care of her mother by administrating several syringes of strong painkillers, causing her mother to overdose, effectively killing her without an ounce of remorse. She then came back at work, channelling Joan, at the woman's "greatest joy".
It is in that season that we are introduced with Jianna, a young woman Joan knew back at Blackmoore. During episode 2x09 The Fixer it comes to Joan and Vera's attention that a prisoner is pregnant and they have to find quickly and quietly who it is. During a drug test, Doreen tries to cover the fact that she's pregnant with Jess's help, but fails and has to undergo another test, proving that she's pregnant, causing Joan to think of a moment with Jianna, moment in which she comforted her as she was scared of the women. As the series unfolded more memories were shown, giving a glimpse of the relationship between the two women, showing Joan growing more fond of Jianna as time passed and leading Joan to admit to Doreen her existence and what happened to her. As Jianna suffered a terrible ending, losing her baby boy (Shayne) and that Jianna (as far as Joan knew at that moment) hanged herself because of the pain of losing her baby. And that Joan was the one to find her after the deed.
At the end of the season when Bea escaped the hospital in order to get revenge on Brayden Holt, Joan realized Bea had played her, manipulated her, just like Joan had done with her, causing her to change her stance and want to punish Bea in the upcoming season.
Season 3
In the first episode a Riot to get Bea out of the slot is led by Maxine Conway, while Joan is with Derek Channing in the CCTV room, Vera gets attacked by a gang, which is composed of Lucy "Juice" Gambaro and her "Boys". Taking her as an hostage to get the Governor (Joan) to open the slot. Joan is obviously taken aback, and left speechless for a moment, realizing that they took Vera as they were close and also that if she was to open the door, they would understand she cares about Vera. Therefore she thought of the long run, and did not give in to the demands of the gang, leading Vera to get infected with Hepatitis C. Only to be overruled by Channing who told the officers in the slot to open the gate and not to put Vera in harm's way more than she already was.
During the season, Joan begins to unravel, questioning herself and thinking there is something wrong with her, after hearing Bridget Westfall state that it's better to have a surfeit than a deficit as a lack of affective empathy would make someone psychopathic, comment which Joan took to heart, and caused her to begin an introspection she stopped rather quickly after a moment with her father at the fencing studio, as he told her emotions led to mistakes. But she still decided to take out Jianna's file, and to give Doreen the ice cream she so craved, unconsciously calling her Jianna, and also ordered a new mattress as the thin prison one didn't help her back.
In the episode Evidence', Joan sends Bea to the Psychiatric Ward after Joan sent Nils Jesper (her hitman) to attack her in Wentworth. Bea is apparently in the exercise yard saying that a man who was neither an inmate or a screw attacked her near the boiler room.
During 3x08 Goldfish Joan sensing things were shifting between her and Vera told her to come to her house the very same evening and to bring Shiraz. Vera arrived with a bottle of Pinot to a surprised, albeit seemingly happy Joan that Vera had come. The dinner goes quietly until Joan breaks the silence and starts telling Vera she always wanted to be more than just a mentor to her, telling her she valued their relationship. Claiming she enjoyed working with her, feeling that sense of professional satisfaction was reciprocated. That they had a rapport based on mutual respect and understanding that transcends their difference in status. That Juice is not one to make friends. But she feels they share a common philosophy when it comes to corrections and that she feels they aren't dissimilar in some ways. But Vera cuts her short telling her they are nothing alike each other, that she'd never do to anyone what Joan did to her, Joan doesn't understand and Vera reminds her of the riot when she refused to negotiate when the prisoners had a syringe to her throat, telling her she was ready to throw her to that pack of dogs without a second thought. Joan interjects saying that it isn't true and that someone is trying to drive a wedge between them. Vera tells her that if it wasn't for Channing things could have gone differently, that she is lying to her and that she doesn't care, she never has. Joan then tells Vera she does care, and places her hands on hers. But when Vera admits she has Hepatitis C, Joan's OCD acts up causing her to retract her hand and wipe it with a napkin, sending the wrong message to Vera, who stand up and leaves the house, while Joan stays seated, contemplating the fiasco.
Fletch and Bea planted hundreds of photos of Jianna on Joan's office walls. She first asked Fletcher about this and he lied to her, feigning not knowing anything, but what he didn't know was that Bea set Vera to take the blame to destroy any bond she and Joan had. When Joan confronted Vera about it, Vera admitted she was certain she was the one behind what happened to Jodie Spiteri, that everything Bea said about being attacked was true, and that she doesn't pretend to know why she does shat she does but that Joan wasn't fit to be Governor, resulting in Joan slapping her. And exposed Vera saying she lost complete faith and trust in he the Deputy Governor, divulging her contraction of Hepatitis C that both Vera and Joan had kept hidden, has Joan had told her the Board would never give her the Governorship once they'd know.
Joan heard Doreen a song to the baby in her tummy and Joan started talking to Doreen, telling her family was important, that she had no family, this led Doreen to ask about Jianna, surprising Joan. Doreen admitted Joan had called her that and Joan explained to Doreen that she was the prisoner who had a baby and she couldn't protect but that she'd protect her. The baby kicked and Joan asked if she could touch her belly, she leaned in as if to kiss her and Doreen's wter broke. Joan was is there when Doreen gave birth, standing by her side, denying Vera to be in the room while it happened. After leaving to know tell Fletcher about what to do when the ambulance gets here, She comes back to the medical unit and hears Bea and Doreen talk about her. Doreen informed her friend as to who Jianna was, how Joan had tried to kiss her acting all disgusted at the thought, and called her a Freak, hurting Joan causing her to leave the prison and go back to her apartment. She let her hair down furiously and started to trash her house, smashing the fishbowl, killing her fish throwing glasses on the floor, glass bottles and saw her father who ended up holding onto her and proceeded to say "I told you Joan, this is what happens when you let emotions interfere". Joan then called herself a Freak, and though her father interjected, she affirmed it. Later on, when Doreen was the the showers, Joan confronted her about when she laughed at her and called her a Freak, admitting she trusted her.
During another moment at the fencing studio, when Joan talked to her father. She starts to unravel further and begins to yell at her father, telling him he never said he was proud of her, not once, instead he bullied and hectored her, treated her like a footsoldier all her life. Claiming all she ever wanted was to be good enough, asking why she could never good enough for him, then realizing Fletcher had been watching, stopping her in her track. He left after calling her insane and adding he knew what she had done.
In the episode Blood and Fire, Joan Fergusons saves Joshua (Doreen's son) by killing Jessica "Jess" Warner, and tried to cover her tracks by lighting a fire, which did not go as planned and trapped her with Joshua, Franky and Bea turned around and went looking for Jess and Joshua, they found them in a rubbish area, the ceiling started collapsing with Bea, Joshua, Franky and Ferguson trapped inside. Bea climbed through the vent while holding Joshua and exited the building. Bea gave Doreen Anderson her baby and then ran back inside to save Franky and Will Jackson ran in after her. Will and Bea managed to push the door open and Bea grabbed Franky and told Will to leave Joan there to burn but Will grabbed her and brought her out, after Joan telling him all of this was his fault, that this was the consequence for Jianna's death, that it was his fault if she killed herself, but Will informed her that it isn't what happened, that Jianna had not killed herself, that it was in fact the prisoners who had hanged her because of her relationship with Joan (who was the Deputy Governor at the time at Blackmoore), but Joan doesn't believe him. The place burns down with Jess inside but everybody else gets out.
Season 4
Joan is now in the Protection Unit at Wentworth, which baffled everyone. Vera is forced to make the decision whether or not to allow Joan into the General Population, although she has concerns that the prisoners will attack Joan and harm her beyond recognition or kill her. During her time there, Vera visited Joan and proceeded to tell her she visited her once at Sinclair (Psychiatrist Facility), but that Joan wouldn't remember given the state she was in.
Finally, after her lawyer pulled her magic and the interrogation Miss Westfall tried to conduct on her was unsuccessful and Joan is allowed back into gen pop and the women are out for their "pound of flesh". In season 4 episode 3, Joan starts to remember her time at the Psychiatrist Facility, and what occurred there. She was heavily sedated, and let to believe by her assigned psychiatrist, Dr. Foster, that he would help her with developing empathy, etc. As time went by, his true intentions were revealed. As in a memory it is shown that he raped her, and that Joan used that to get out of the facility. Joan as she spent her first day into Gen Pop was ganged in the showers by Gambaro and her crew. But Joan used this to her advantage as she got close to Kaz. Kaz saw Joan as a victim, and soon one of her most trusted friends. They worked together to get rid of Bea Smith so that Joan can exact her revenge, unbeknownst to Kaz, as she still saw Joan as a victim, and someone she needed to save.
After a moment with her lawyer, Joan refuses a strip search and Vera is called to take part in it. Joan objects that it's not necessary, but Vera doesn't care and tells her to strip. Joan complies and Vera sees the "colourful" bruises on her arms, wrists, thighs, and buttocks, clearly shocked by what she sees. Vera asks her who did this to her, but Joan tells her she fell in the showers. Vera doesn't believe it but Joan tells her the showers are slippery and that the inmates have been most accommodating, facilitating her recovery. Vera then decided to sent Joan to medical for a check up and after it happened was met by Miss Westfall who told her it's an informal visit, that she heard she was injured, and probably not adjusting really well. Joan tells her it was a minor fall, and that the inmate were most accommodating. And that she knew that she and Vera wanted for Joan to admit about an imaginary persecution anything to put her back into protection. "An attack maybe ? A ganging ?". Bridget asked her if she was indeed ganged and Joan lies, causing Bridget to tell Joan she thinks she did it to herself to serve some twisted agenda, though she doesn't know what she's going to achieve other than death. Joan then deviates the discussion over Bridget and Franky and Bridget leaves, as Joan taunts her.
Her alliance with Kaz Proctor comes to an end after Will Jackson confronts Kaz with who told the police about her link to the Red Right Hand, leading her to be incarcerated at Wentworth. After it is revealed that it was Joan, Kaz barges into the kitchen where Joan is drowning Bea Smith and starts to fight with her, trying to "fry" her. Joan's hand end up in the boiling oil, leading to severe burns, and she has to be transferred into the hospital. While Allie and then Will tried to give Bea CPR and bring her back to life.
Her relationship with Doreen was on and off throughout the season, as Joan helped her get her conjugal, giving her all the elements to confront Vera and give her no choice but to comply to her demand. Joan during her time as inmate, always kept Doreen out of harm's way, and never sought revenge for the betrayal in S3 and how she laughed at her, causing her meltdown during 3x08 Goldfish. Clearly showing her soft spot for the woman. Doreen later joined Kaz's crew shocking everyone, as she sat next to Joan, clearly showing her challenging Bea's authority and re-evaluating their friendship.
After what happened to her in the showers, Joan's survival instincts kicked in and upon seeing the new inmate, Tasha Goodwin with Doreen, she spoke to Juice and told her she could do better than her (Joan), showing Tasha to her, clearly planning to use this to her advantage. This led to Tasha nearly being ganged by Juice and another inmate, but she pressed the panic button, breaking the number one rule of the prison. Joan used that to rave Kaz and her crew up, as Tasha was going to be punished because she was scared her protected herself. Maxine left her with a warning, ruining Joan's plan, but Bea once out of the slot, felt obliged by Juice and her Boys to exact punishment on Tasha, leading Doreen to grow further away from her friend. Joan falsely bonded with Tasha, as they sat in the yard, she offered her something to cover her head, and asked about the marks on her neck, Tasha admitted she tried to "neck herself" (hang herself), which rings a bell within Joan. She used this to tell Tasha no one was going to befriend her now that she'd been branded a lagger, telling her to "hang in there". Later on as Doreen looked for Tasha, she rushed to the showers upon realizing she was going to try and kill herself. Only to find Joan giving the young woman CPR, effectively bringing her back to life, causing Kaz and her crew and praise Joan and Doreen to start question her stance with the former Governor.
As Joan's trial is coming soon, she uses Jake Stewart to kill Nils Jesper, as he is a key witness in the case against Joan. Jake needs 90 grands, that Joan is happy to provide if he takes care of Jesper which he does, rendering the trial in favor of Joan as without it's key witness they have nothing against her. She had originally planned to use Shayne to take out Jesper but that failed as Franky and Bea tried to make him see what she was doing to him, and that if she did care she wouldn't have asked that of him, as he could have been sent into Walford for murder. Destroying any chance of them ever building a relationship ever again, as Shayne decided he wanted nothing to do with her ever again, telling her Jianna would be disappointed in her.
Bea confronts Joan outside the prison as she is being released after falsely telling Vera that she planned to get a confession out of her to be let out outside the prison ground, but instead wants to actually kill her with a screwdriver to avenge Allie's supposed death. However, Joan disarms her, which leads to Bea lunging at her and driving the screwdriver into her own abdomen stabbing herself repeatedly before Joan, seemingly taken by what's happening, stabs her a few times as well. Will Jackson, Vera Bennett and other officers arrive, after Bea, utters 'I win' to a shocked Ferguson, before dying in Will's arms.
Season 5
When Joan arrives in the yard at the beginning of the season, Allie tries to hurt her with a billiard ball in a sock but Joan easily disarms her, letting her fall on the ground. She throws the makeshift weapon aside and goes to leave but Allie stands and attacks her from behind, other inmates join in the fight, but Joan is ruthless, and defends herself, snapping someone's arm, breaking noses, and lifting Allie off the ground by the throat. Which wouldn't have been possible without Brenda Murphy (an officer) who prevented officers to get involved. Blood dripping from her mouth, growling and unhinged, Joan screamed to the inmates "who's next ? come on !" under their watchful eyes, but no one dared to take her on. She landed herself in medical where Vera confronted her telling her to go into protection, so she wouldn't have to "defend" herself like that, blaming her for the inmates in the medical unit. Joan informs her the inmates put themselves there as they were the one to attack her and tells her to ask officer Murphy as she was in the yard at that moment. Vera calls for her and she officer tell her it's true, making Vera ask her why she didn't stop it. Only for Murphy to tell her that she wasn't going to get her neck broken given what she's paid. Vera dismisses her, and ends up telling Joan that she hoped she dies.
Not only did Joan bring Juice and her Boys and Tina Mercato's crew together, but she created a new conduit for drugs to enter the prison with Jake's help as he is a drug dealer. Making Kaz's job (Top Dog) even more difficult as more and more OD happened. She also told Jake to have sex with nurse Radcliff to bind her to them, as she could prove useful in the future. And she also used Jake to hurt Vera, to crush her. She was the one who told Vera that everything with Jake was fiction, as she was the one pulling the strings the entire time, how he told her everything, how they laughed at her.
Joan never forgot her ganging, which is why she spots the perfect opportunity to use Nurse Radcliff to gain access to Juice when she complains about a tooth ache, landing her in medical to have it taken care off. Little did she know Joan was the one to get to her first, and tied her to the chair, opening a scalpel. Telling her she licked her last pussy, before holding her tongue out and severing it. She kept it with her and had it wrapped in a box on Vera's birthday, and told Jake to bring it to her office for Vera to find. Only for Joan to be called to the Governor's office and told her privileges were revoked as Vera knew she was the one who did that to Lucy Gambaro. Joan used the terms "burden of proof", and seemed disappointed in Vera at that moment. Jake had the same sort of look on his face as he brought Joan back to her unit.
Joan also used Iman Farah, making her a target for Juice and her Boys, she befriends her and leaves her to the mercy of Juice and Stella. Though she is saved by Doreens, Boomer and Franky. When Iman tried to kill Franky Joan stepped up and subdued her, effectively disarming her, while Franky informs Joan she was the one to kill Penisi, to which Joan tells her she(Iman) can tell that it wasn't her. Franky was all smile but seemed to have forgotten who she was talking to, as Joan informs her that she won't tell anyone and snaps Iman's neck, and left her dead body on the floor of Franky's cell, framing Franky for another murder.
After the new spread that Joan had taken out the trash (Juice), when Kaz had done nothing, a good amount of the inmates started chanting Top Dog, as they didn't want Kaz to fill that position anymore, effectively elevating Joan to that position, albeit for a short amount of time.
When Joan to take a shower, Allie was found in one of the cubicles, seemingly high, and Joan approached her unaware of her true intentions. She called her out on being draw to strong women, "first Kaz, then Bea, now me" and called her a "top dog whore" and a "starfucker" before leaning forward to kiss her after having told her "if only Bea could see us now". Allie used that moment to plunge the syringe to her neck but didn't have the time to inject her, Joan stood up and took the syringe away before hitting, Allie incapacitating her, she nearly hotshot her, but decided against it as she didn't want for Allie to have the easy way out. And proceeded to tell her when Bea came for her she overpowered her too, and that she killed herself to be with her, but that she(Allie) survived. Telling her "the love of your life died for nothing".
During the previous to last episode, Franky and Kaz succeeded to catch Ferguson off guard and drag her to the yard, tying her to a basket ball hoop. Opening what that called the Kangaroo court, which was meant for the women to speak freely without fear of Ferguson hurting them, without fear of repercussion. Franky started telling the women about what Ferguson had done ever since she arrived as Governor. Then Joan is given the chance to speak and things go well as she seems to be understanding of the women, but then snaps causing the inmates to grow more angry as she spats at them. Channing wants no officer to enter the yard as they have Linda Miles in hostage, but Vera keeps telling him it won't end well for Joan and she descend into the yard, watching first row what is happening. Kaz bows down to Joan as she is destitute from the role of Top Dog and tells the inmates the court is dismissed and they can all leave but someone throws a rope at Joan's feet, a dreary silence taking place until Kaz's screams tear through it. The inmates all walk towards Ferguson trying to place the noose around her throat while she tries to prevent them. Kaz tells Franky to stop them but Franky tells her they made their choice and steps aside, leaving Kaz horrified. Vera can't believe her eyes and tells Channing to order the officers in the yard but he refuses. The inmates lift Joan in the air and Vera can't take anymore. she barges into the yard yelling at the inmates holding the shiv at Linda's throat to drop it. They let Linda go and Vera rushes to the shiv before running towards Joan who has turned shades of blue and red and cuts the rope, making fall on the ground, lifeless. Vera takes her pulse and seems to be finding none as she starts doing CPR, the inmates forming a circle around them. Channing smiling while watching the CCTV as Joan was a a thorn in his side. The camera moves further away from Vera performing CPR on Joan for then suddenly zooming in on her face, and Joan snapping her eyes open.
When in medical, she is met by Channing who tells her she shall go back into Gen Pop this very afternoon when she tells him she wants to be placed into protection. She asked Jake for help but he proved to be inefficient as well. At some point Vera passed in front of Joan's medical cell and Joan caught her attention by taping on the window motioning for her to come. Vera entered and Joan thanked her, before asking her why she did it. Vere said nothing and Joan told her "you humanity always wins out", again Vera said nothing, as she was about to leave. Joan told her she couldn't be back into general. Vera told her she couldn't do anything, and Joan said she could place her in protection. But Vera reminded that she wasn't Governor anymore thanks to her, therefore she couldn't help her even if she wanted. That she did too good of a job on her. And she departs, leaving Joan to realize the only person who could have helped, that wanted to help, couldn't anymore because of none other than herself. After that Joan taunted Will, and he let himself be worked up, telling Joan the women were going to kill her out there, Joan agreed telling him they could do what he couldn't, that it would tarnish his halo.
In the last episode of the fifth season of Wentworth, Joan Ferguson knew she was in trouble and needed to escape her death, but she didn't know how. Therefore when Jake uncovered a plan (which he believed to be Allie's plan to escape). He told Will and the three of the them made a plan to take Ferguson out for good. Jake and Will allowed Joan to escape the prison with Franky in the boxes. But Joan's freedom was short-lived when Will Jackson took Joan's box away, drove to a remote place and buried her alive, despite her screaming and pounding on the box. Giving Joan wrong about his inability to take care of her permanently. We left season 5 not knowing whether or not Joan would survive and be rescued.
Season 6
In episode 6x01, officer Jake Stewart reassures Allie Novak that the Freak is dead, although he has no material proof of it. Ferguson's prisoner photo shot is shown on newspapers posters around the city together with Franky's one in order to warn people of fugitive prisoners.
Throughout season 6, Will Jackson is overwhelmed with guilt and begins to hallucinate Ferguson on multiple occasions. Seeing her asking "did you bury me deep enough?", "will they (his bloodied hands) ever be clean?", and telling him that he couldn't trust Jake nor Vera as they would turn on him and tell the police. Until the moment Will says that Vera would never do that to him, he doesn't let his mental take the best of him and doesn't let his fears control him and his hallucination loses his power, Joan going from Governor speaking loudly, to inmate speaking just as loudly until she voice is a whisper and as he claims one last time that Vera wouldn't do that, that Joan's dead, she can't manipulate him, his hallucination is cut short and can't speak anymore, before disappearing.
In episode 6x09, Vera, Jake, and a guilty-conscious Will return to the burial site where they dig up the grave. It is revealed that as they pull back up the box and open the wood, a corpse is found, however, due to the body being decomposed, it remains unclear if it is Ferguson or not. Her body is instead awaiting DNA results to confirm it is her, however, it is believed that it is most likely Ferguson as the body is the same height and build but her status remains unknown until the DNA results have been revealed.
Season 7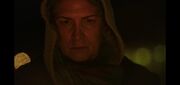 In the final scene of the season finale, Joan Ferguson is revealed to be alive after Rita's escort transport drives past, appearing as a hooded figure around a homeless fire. The scene ends with Joan glaring at the blazes of the fires, presumably that she is exacting revenge on Will Jackson, Allie Novak, Vera Bennett and Jake Stewart for her downfall.
Season 8
In episode one, she is first seen standing in the cue for the dole under the assumed name of Kath Maxwell. Joan is later met outside a bank by Joe, who assumes that Joan is Kath. But is suspicious as Kath Maxwell was a mate of his and tells her he hasn't seen her in ages. Joan is later seen booking tickets for a flight to Rio as part of a plan to possibly kidnap Grace.
In episode two Joan is first seen at the bus stop where she watches Vera go and get petrol, she attempts to get in the car but is stopped by Joe when he asks her that it cannot be a coincidence that she took on Kath's name after she disappeared, Joan says it is and leaves. Joan is later hit in the head with a crowbar and left to die but is found by a passer-by who calls an ambulance.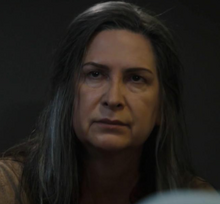 In episode four it is revealed that Joan has been in a coma for two weeks with a severe head trauma after being attacked by Joe. The police later reveal that Joan escaped the box with help from Brenda Murphy and that they found her prints all over Murphy's house after Channing shot her. Joan had been in hiding to get money before she was attacked. Joan later wakes up from her coma when Jake tries to hotshot her. Joan later reveals that she does not remember Will, Jake and Vera and that her name isn't Joan, but "Kath".
In episode six Joan returns to Wentworth and is placed in the psych unit as she suffers from a traumatic brain injury which lead to a severe fugue state (link to a site [1]), undergoes testing from Dr Miller to determine if she is faking or genuine, making her pass a Rorschach test (link to a site [2]). Joan talks with Jake and says she knows him from the hospital, as Jake says to leave his family alone and that if she is genuine he'll go along with it. Jake later says to Vera that Ferguson hasn't broken character as he has been watching her "on and off'.
In episode seven Joan is released from the psych unit and has two conversations; one with Vera who tells her to drop the act, telling her admit she's a psychopath so they can keep her here and another with Dr Miller where she says she wants to remember who she really was. As chants of "freak" overcome the prison Marie talks with Joan, and respects her boundaries. Joan later has a confrontation with Allie who believes Joan is faking her memory-loss and then grabs her and holds her in a mirror while screaming at her face she hotshot her here, that she gutted Bea Smith and cut Juice's tongue out, Joan screams "no more, no, no ,no[...]" in anguish and runs off.
In episode eight Joan continues her sessions with Dr Miller, during one of their sessions Dr Miller takes Joan to see the crèche, there she sees Grace, and asks about her, probably feeling like she knows her or has already seen her before. Jake eventually sees the two of them and angrily demands Dr Miller not to take Joan near his and Vera's baby again, Joan secretly steals one of Dr Miller's goldfishes during their sessions, Jake later warns Joan to stay away from Grace to which Joan then closes her door and takes out her new pet goldfish. Vera eventually comes by and warns her not to go near Grace again which confuses Joan, eventually Lou Kelly requests Joan to kill Dr Miller by poisoning him with rat poison, Joan however refuses to do so which angers Lou who threatens Joan about her former experience of being hung by the basketball hoop by the prisoners. Jake decides to lie to Joan to protect Grace and convince Joan to stop seeing Dr Miller by falsely claiming Dr Miller indirectly caused the death of Liz Birdsworth, Vera then asks as to why Joan no longer wishes to see Dr Miller to which she claims he is responsible for the death of "Liz Birdsville". Joan then requests to stop seeing Dr Miller during one of their sessions to which he asks why, Joan claims she does not want to remember her former-self as she was a "monster" and "pure-evil", Joan eventually considers poisoning herself but Marie walks in and talks her out of it, telling that it doesn't who she was before, but who she is now.
In episode nine Kath/Joan refuses to speak to Dr. Miller, Vera walks by and she asks him why does she hate her so much, only for Miller to ask Kath/Joan she doesn't ask her herself. Then Dr. Miller asks her "if she thinks Joan sees herself as a bad person, telling her he thinks if she were seated here right now she'd tell him that everything she ever did was necessary, good, bad. It's all relative. Causing Kath/Joan to think at the time that Joan killed the little girls she is seeing. Kath/Joan is given LSD by Allie after Vera came to her for help, so that she can reveal everything she has done. When Joan goes on a massive trip she sees a child and reaches out for her, the child is an hallucination and she "cuts" her forearm with a piece of glass, leaving Kath/Joan to believe that 'she had killed her', causing Vera to smile triumphally. Will attempts to calm Joan, by calling her Kath and telling her everything is alright, to take his hand and that he'll bring her to medical but is struck in the head by Linda and her baton. Joan is taken to medical, where she tells Miller she is seeing a girl in her hallucinations and that its possible she killed her. When Miller leaves Joan, Vera tells him the fact she said "I killed her" if proof enough. But he informs Vera, Will and Jake anything she said under the influence of a drug cannot be trusted.
In episode ten, Lou Kelly goes to Kath/Joan to ask about her phone and as she cannot get a satisfying answer from Kath/Joan decided to go through her cell and finds the goldfish, Lou wants to make her swallow the goldfish but Kath fights back and tries to get it back only for it to fall on the floor and shatter, cutting her hands with the glass and crying out loud. Kath/Joan then has a flashback from her childhood in which she sees a goldfish laying on the floor with it's bowl shattered and her father and mother arguing. Her father striking her mother to the face before drowning her in their bathtub, causing Joan to walk up to her dead mother and saying to her "I love you mummy", leaving Kath/Joan (In Wentworth) on her knees and crying, which lands her in the psych unit, where she tells Dr. Miller what she remembered and he tells her this cannot be placed on the LSD and she tells him it's a memory. He asks her what happened and she tells him "when I was a little girl my father murdered my mother. I was there." He asks if he went to prison but she cannot answer him. Joan later faces a committal hearing in which Dr. Gregory Miller has to give his professional opinion on whether the accused, Joan Ferguson, has in fact amnesia and cannot stand trial for the murder of the actual Kath Maxwell. Vera is in the audience and has repeatedly begged Dr. Miller not to believe Joan and manipulate him into saying that Joan remembered. But Dr. Miller decided to stay professional and claims she has indeed amnesia and that he would stake his professional career on it, angering Vera who leaves the court room. While in the psych unit to force Kath to remember who she is, Vera orders Linda to spitbag her, Linda does so and Ferguson is left with the spitbag on, crying out for help and to take the spitbag off her, completely unaware that Vera is watching on the other side of the glass, the twitch on her face very much present as Kath/Joan is struggling, and could remind of Joan herself. Vera then decides to turn off the lights in her room, leaving her in the dark. Ferguson has a psychotic breakdown which triggers flashbacks, to hotshotting Allie, Bea's death and killing the real Kath Maxwell and use her as a doppelganger, after she screams, the spitbag is removed and as a result Kath remembers what has happened to Joan and what Joan has done in the past. She then proceeds to stare into a mirror, dishevelled and sweaty, clearly shaken by what she just experienced and mutters "I am Joan Ferguson. I am The Freak.".
Season 8 Part 2
In episode one, Joan is first seen fantasizes about stabbing Will in the yard, and when she is called by Jake to see Greg Miller (Wentworth), Joan also fantasizes about snapping Jake's neck. Joan talks with Miller and he tells her that he needs to keep a record for the court. Joan is in the kitchen when she fantasizes again this time about Will in the freezer. Joan rushes to Miller's office and tells him that she almost lost it. Joan tells Miller that she regained her memory weeks ago. Miller kicks Joan out of his office until she is later called back into his office, where Miller agrees to treat Joan with Psuldrycin (the same drug he used to treat Liz with) and that no one must know about it. Joan is later seen in the yard when Marie sits with her, they later both walk back to the unit and Joan presses the panic button when they realise that Reb is dead..
In episode two, Joan is first seen standing in her unit as the officers come to deal with Reb and Lou. Joan later talks with Dr Miller and says that Reb's death has effected her as Marie and Lou crying was distressing. Joan tells Marie she knows it wasn't her who killed Reb but she has an idea on who might've. When Lou argues with Allie in the corridor, Joan says to Sheila that the "garrotte was a nice touch" and Sheila tells her not to read into it. Joan later tells Vera it was Sheila who did it, but Vera doesn't believe it. Joan is last seen in the dining room when Lou reveals she killed Sheila.
In episode three, Joan learns from Marie that she wants to transfer units and Joan talks with Marie later about why, Joan tells her it would be different and lonely without her in the unit. Joan has another session with Greg Miller (Wentworth) and says that everything feels like its starting to connect and she regrets hurting those who she previously hurt (Vera Bennett (Wentworth)) saying that she gave someone information but didn't act on it. Joan is present in the dining room when Lou challenges Boomer to a fight in the laundry. Off screen Joan does the inmate drug test which comes up for the drug Miller has given her. Later that night Marie talks with Joan again this time about 'killing the monsters you create' talking about Jake whom she heard before threatening Vera with a lawyer.
In episode four, Joan learns that a former inmate from Blackmoore has been inducted into Wentworth, Eve Wilder (Wentworth). When Eve says she knows Kath as Joan, Marie says that Joan had a head injury and is now Kath. Eve later in the kitchen tries to get under Joan's skin. Eve then reminds Ferguson of her nickname from Blackmoore ' The Fixer'. That night Eve tries to strangle Joan with a wet tea towel but Joan knows what's coming and attacks her first. They end up talking about Eve's conquests. Joan is in the yard when Jake talks to Eve again.
In episode five, Joan manipulates Eve into falling for Jake by making her use Jake to get a bottle of vodka, which changes to a bottle wine he gets off of Linda. Joan also talks with Miller about how she is now controlling her urges but being in sync with the enemy. Miller tells Joan she needs to watch herself as Vera knows that she and Ever may know eachother. Joan and Eve later share the bottle of wine in the cell talking about the past.
In episode six, Joan is first seen on kitchen duty where she tells Eve to go after Jake yet again, Joan returns to her unit where Lou tells her to transfer out, but Joan refuses to. When Jake rejects Eve's advances, Joan tells Eve all about Jake's past and how he hurt Vera. Eve makes a plan and attacks and knocks out Jake and tells Joan that he's in the freezer. Joan goes to see Eve's work but is attacked by Eve and dumped in the freezer with a retort of "this is for Blackmoore". Joan manages to get out of the freezer to a shocked Eve and says to her its 'hush, hush time' and subsequently removes her eye. Joan is also seen in the dining room afterward and puts Eve's eye in Lou's jelly whispering to herself 'I've got my eye on you.'.
In episode seven, Joan is seen walking with Linda to her appointment to see Dr Miller. Miller calls out Joan for her behaviour but Joan says that Eve deserved what she got and that Miller needs to calm down. Joan later asks Linda if she could give Miller a note, but Linda refuses to help her. Joan is burned at the press by Lou, and when she is taken to medical where Miller asks tells her that Vera knows. When Joan returns to her unit she sees that Marie is being moved out after it is revealed that she is the mole.
In episode eight, Joan is first seen talking with Linda who tells her that the police wish to speak with her. While she is speaking with the police Joan finds out that they have found the passports. Joan realises she has lost, but she still wants to hurt Vera. Vera tells her she has lost. Joan tells Vera that "teal wouldn't look good on her" as it would mean Grace would have only one parent. Joan is later seen in the governors office when Will says he will no longer go after Joan or Miller, Joan tells Will that she understands why he did what he did. Later Joan makes an attempt to garrotte Vera but is stopped when Ann comes to confront Vera.
In episode nine, Joan faces court and with the testimony of Greg Miller, it seems that she is likely to be released from prison. Joan returns from court to tell Mandy it was 'going well'. Joan returns to court and when Vera is about to perjure herself in court, Joan finally reveals the truth and says she regained her memory ages ago and that Dr Miller was treating her. Joan says the only place for her is in prison. Joan is taken back to the prison where Greg Miller reveals that she as in fact taken off of the medication and was on a placebo for months.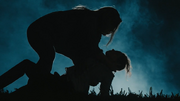 In episode ten, Joan is first seen talking to Rita when she asks her for her help, Joan declines at first but later agrees and 'faints' in front of Anna Deng. Joan talks with Will who informs her that one final nail in Joan's coffin and says that Greg Miller had signed off of Joan returning to Sinclair. when Rita comes back into the unit Lou and Rita are fighting and Ferguson pushes the panic button and walks off brushes her hair in peace. Joan eventually redeems herself when she chooses to save Vera's life after she is almost strangled to death by Ann Reynolds, carrying her out of the collapsing prison to safety, the two make amends with one another and part ways as Joan leaves and goes on the run.
Joan's final lines are "A child needs her mother"
Trivia
She has Obsessive Compulsive Disorder, as it is something that was added by the actress who portrays her.
It can be read in Joan's prisoner file that she was born in Korsakov, Russia.
Regarding Ferguson's sexuality, Pamela Rabe has stated " [...]  I think, yes, of course, she is gay but she's in this weird denial." The inmates and officers refer to Ferguson and Jianna as having had a relationship on a number of occasions. Joan's infatuation with Doreen (as a reminder of Jianna) alludes to her attraction to other women. Alongside the fact she nearly kissed Allie when they were both in the showers, and seemed to have a certain attraction to Vera Bennett.
Seeing her home, and the fact she can afford a PI, it is clear Ferguson is wealthy. Ferguson even goes so far as to tell Jake that she has plenty of money, and easily can afford to pay Jake $90,000.
Sonia then takes over as the new main antagonist for the first half of Season 6 until her death in the episode 'The Edge'. Marie Winter then takes over as the main antagonist for the second half of the season.
She is inhumanely strong and displays combat prowess, as demonstrated when she was able to grab Jess Warner, lift her from the ground, and hold her in a stranglehold. The same was also done to Allie in which she was able to effortlessly incapacitate 4 prisoners after she was attacked for the murder of Bea Smith which resulted in the other inmates fearing her.
Joan is an extremely intelligent person who is capable of going to great risks as well as going as far to escape extremely dangerous positions as noted from managing to survive from being buried alive.
Joan does not appear as the main antagonist during season 1, 6, or 7.
The fact Joan sent Juice's tongue to Vera on her birthday could be interrelated as Joan avenging herself for her ganging and Vera for her Hepatitis C as it was Juice's blood in the syringe they held to Vera's neck. And as Vera asked Joan who had hurt her, it could have been her way to tell Vera without lagging which is the worst thing one could do inside the prison and suffer terrible consequences.
During the dinner in S3 it was let to believe, that Joan was going to tell Vera how she felt about her, how much she cared. But it went downhill.
The arrival of Bridget Westfall shook Joan, as she was a Board appointment. Bridget also made it clear by her behaviour that she was also here for Joan. As she seemed to tell her things like "Im used to deal with all types(manipulators), especially those who have their shit together", "well, better a surfeit than a deficit [...] a deficit of affective empathy would make you psychopathic", and making an "assessment" of Joan based purely on the façade she showed at Wentworth (making the statement useless, as she did not know of her past) as the Governor and later as an inmate who had to fight and be cunning to stay alive. Often dismissing Joan, which she gave back to her in kind, though she never harmed Bridget physically.
It is believed that during the blackmail of Vera by Murphy, Joan was staying at her house as it was revealed her fingerprints where found in her house and Brenda was the one to help Joan out of the box. Joan could have very well partaken the blackmail, as Murphy was the one to snap the picture of Vera, Will and Jake at Joan's burial site. Meaning Joan probably knew of the existence of such a picture. It could also be believed that the money they were trying to get from Vera could have allowed them to leave Australia. As Joan tried in S8 to get to Brazil.
In 8x09 Joan starts seeing a young girl she believes she killed in the past. Only to be revealed in 8x10 that it was in fact Joan herself when she was younger when she witnessed her father (Ivan) drowning her mother in their bathtub.
The moment Vera tells Linda to spitbag Kath/Joan can very well be linked to when Vera was taken hostage during the riot in S3 as she also had her head covered by the inmates.
Pete McTighe, one of the writers of the show, once told fans that Joan met Nils Jesper when she worked briefly at a men's prison and Nils was a prisoner there. (https://twitter.com/PeteMcTighe/status/773877678109634560?s=20)
Appearances