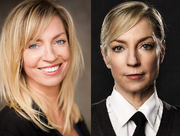 Jacquie Brennan is one of Australia's most versatile actors. Jacquie has appeared in theatre, television and is a highly regarded Voice Over Artist. Jacquie is known for her roles in Bullpitt, The Hollowmen, City Homicide, and had guest appearances on Dangerous, Canal Road, All Saints, A Bed of Roses, Neighbours, Five Bedrooms, Secret Bridesmaids Business, Informer 3838 and many more. Jacquie plays Deputy Governor Linda Miles in Wentworth since season 1 episode 2.
Jacquie joined Wentworth in 2012 when the series first went into production originally only hired for 8 days and started airing in its first season in 2013, Jacquie plays sarcastic and sassy prison officer Linda 'Smiles' Miles, Linda's first appearance was in season 1 episode 2 and has been apart of the supporting cast since then. Linda in season 7 was promoted to acting deputy governor. Brennan would be in the 'Wentworth 4" alongside Robbie Magasiva, Katrina Milosevic and Kate Atkinson being one of four actors in the series to be in the show since its first season (appearing in episode 2) until filming wrapped for series 9.
Jacquie's career has also encompassed theatre, film and of course many roles in TV, including many voice acting roles in SheZow as various voices, and in Exchange Student Zero as various voices as well as Monster Beach and Kuu Kuu Harajuku as the voice of Colonel Spyke and Mauve Madison and other various voices respectively, Jacquie has also voiced campaigns for Jeep AU, WorkSafe Victoria, ANZ Bank, the Peter MacCullum Cancer Centre, World Vision and many more, and in 2018 was awarded a Voice Over Award for the MacCullum Cancer Centre with a powerful voice over for the centres ad "Prevent Detect Act".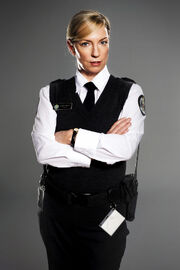 Jacquie's theatre credits include Silhouette, Dangerous When Wet, Milo, Dinkum Assorted, Beach Blanket Tempest and many more, as well as appearing in the Australian Tour of 'Are You Being Served' alongside cast from the Television series..
in 2020 Jacquie would appear in Underbelly sequel "Informer 3838" where she played Christine Hodson a real life victim of the Melbourne Gangland War alongside Rhys Muldoon who played Terrence. 
Jacquie revealed during Virtual Meet and Greets in 2020 that she was originally hired for "8 Days" of filming as she was reading with and for other actors, one of those was reading for the role of Boomer alongside Katrina Milosevic, but was asked to read for a "small role" this small role was the role of Linda Miles and the episode director Kevin Carlin said to read for it, Jacquie received the role and kept playing Linda Miles until production ended in 2020
Jacquie is married to Ian Bliss who played Senior Detective Collins in season 6. Jacquie and Ian met on set for theatre play Silhouette in 1999
Jacquie won a Voice Over Award at the 2018 VoVo's For 'Most Emotionally Powerful Delivery' for the Peter MacCallum Cancer Ad 'Prevent Detect Act'
Jacquie provided her voice to the 2015 World Vision AUS campaign as well as WorkSafe Victoria, Jeep AUS, BHP, the Peter Mac Cancer centre and many more commercials
Jacquie provided voice work for several characters on SheZow, Exchange Student Zero and Kuu Kuu Harajuku
Linda has appeared in every episode excluding the pilot episode
Community content is available under
CC-BY-SA
unless otherwise noted.