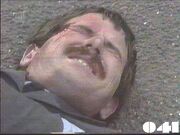 Meg and Vera argue opposing sides to Erica about whether Lynn deliberately tried to smuggle out letters, or whether she was framed (guess which takes which side...) Doreen is worried that Lynn has taken the loss of her work release so hard. Bea and Monica discuss the new Deputy Governor: Bea suspects that Monica fancies him a bit. Looking forward to getting out, Monica thinks about selling the shop, and Bea suggests she sells it to Marilyn and Eddie as they are doing such a good job of running it.
Erica asks Meg about the gossip concerning her relationship with Greg which makes Meg snap at her that her private life is her own concern and nothing to do with work. Meg tries to get Lynn not to give up on getting her parole and says the Governor will tell the parole board that she thinks she was set up. Doreen looks only half pleased with Lynn's delighted response. Joyce brags about how well her husband organised the robbery and says the other two men involved were useless, referring to them as "Laurel and Hardy". Karen is all set to expose the injustice of prison life, even when Bea tries to inject a bit of reality.
Meg asks Greg to give his job up for the sake of their relationship, but he says he is the junior partner and has to do the job at Wentworth. Doreen makes an excuse to see Greg and steals some pills from the surgery. Joyce gets a visit from her friend Julie, who seems mainly concerned to try to find out where the money is. Greg tells Jim in Erica's absence that some valium is missing, and Jim orders an immediate cell search. Pills are found under Lyn's pillow, so Jim puts her in solitary, despite Meg's protests that she may have been framed again. Lizzie works out who's really responsible when she becomes suspicious about how loudly Doreen is protesting Lynn's innocence.
Monnie takes Steve on to arrange the sale of her shop to Eddie and Marilyn. Harry visits Joyce: he says he's no longer on the run as he's got a solid alibi, but she won't tell him where the money is, obviously not trusting him to wait for her release. Doreen sneaks into solitary to have a word with Lynn. Harry returns to see Joyce for a second time in one day and Jim lets him see her when Harry hints that he needs a favour as a "friend". The men in the grocery truck grab Joyce but fail to get her. Jim is injured trying to stop them
Previous Episode
Edit
Next Episode
Edit
Community content is available under
CC-BY-SA
unless otherwise noted.